The Books
Virginia Lee Burton wrote and illustrated seven books:
Choo, Choo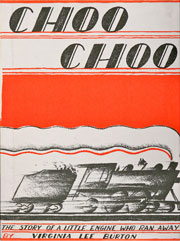 1937. Dedicated to her eldest son, Aris.
The story of a beautiful little locomotive all black and shiny. She pulls trains from the city to the country, and back again, in a very proper and dutiful and wholly humdrum manner. At least she does till one surprising day when she suddenly says to herself: 'I am tired of pulling all those heavy coaches. I could go much faster and easier by myself; then all the people would stop, and look at me, just me, and they would say: "What a fast little engine! What a beautiful little engine! Just watch her go by herself!" '
So Choo Choo does go by herself, and the story of how she runs away and of her exciting adventures makes one of the most captivating books imaginable.
Remarks by Houghton Mifflin & Company, publisher.
Mike Mulligan and His Steam Shovel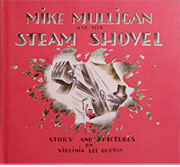 1939. Dedicated to her younger son, Mike.
Mike Mulligan and His Steam Shovel has the kind of freshness and utter originality that has been making the over-the-counter sales on juveniles all through the last decade, from 'Millions of Cats' to 'Ferdinand.' It is the story of a faithful Irish steam-shovel artist and his steam shovel­-the beguiling Mary Anne­-that he would not desert even though competition from gas and Diesel-motored shovels was ruining him. The solution of Mike's problem is classic in its simplicity. Under pressure to show Mary Anne at her best, Mike digs the foundation of the town hall of Popperville, and in his haste forgets to leave a way out. This suggests to the ingenious townspeople that Mary Anne could easily be remodeled as a furnace and Mike, her master, retained to keep her heart and boiler warm.
Remarks by Houghton Mifflin & Company, publisher.
Calico the Wonder Horse or The Saga of Stewy Slinker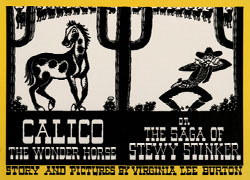 1941.
This title was revised in 1951 to Calico the Wonder Horse or the Saga of Stewy Stinker, which is the original title Burton gave to the book. However, at the time it was thought that "Stinker" was an inappropriate word for a children's book. Changing times and opinions allowed the title to be revised in 1950 to read "Stinker." The creative impulse to write "Calico" came from Burton's desire to create for her sons – and other children their age – an alternative to the comic books that were prevalent at the time.
The Little House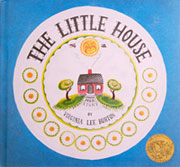 1942. Dedicated to "Dorgie," the name that Aris and Mike gave to their father, George Demetrios-renowned sculptor and art teacher, and husband of Viriginia Lee Burton.
Winner of the Caldecott Medal (1943) and in print for more than 60 years, The Little House is an enchanting classic of American children's literature.
"This engaging picture book cleverly presents a wealth of information-the changing seasons in the country, the advancement in architecture and transportation, growth in population, and the accelerating tempo of city life."-Booklist
"In The Little House Virginia Lee Burton, with lively imagination and genuine power, has made an original and charming picture book…There is something fortifying for [children] in the lasting qualities of The Little House and the steady round of the turning year." -New York Times Book Review
"The story of a little house that wins its way into the very center of our heart."-Horn Book
"Her stories may be simple and straight-forward, but her books have heroes and heroines children can understand and enjoy, ingenious and satisfactory endings, and lively illustrations. The books survive because they exhibit so effectively the elements most basic to children's literature."-Lee Kingman, Virginia Lee Burton's editor, in Children's Books and Their Creators
Remarks by Houghton Mifflin & Company, publisher.
Katy and the Big Snow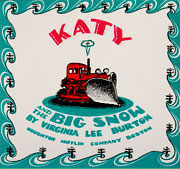 1943.
Katy the red crawler tractor could do a lot of tasks – in all types of weather. Things were a bit slow one winter day in Geoppolis, when all of a sudden the "big snow" hits town. Who will help all the people, businesses, and government agencies in their distress? Katy, of course! Katy, a brave and untiring tractor, who pushes a bulldozer in the summer and a snowplow in the winter, makes it possible for the townspeople to do their jobs.
Remarks from www.kidseconbooks.com
Maybelle the Cable Car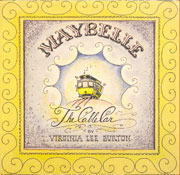 1952.
Maybelle was a cable car
a San Francisco cable car…
She rang her gong
and sang her song
from early morn
till late at night…
Until the City Fathers said the cable cars were old fashioned and must give way to big modern buses. "No," said the people of San Francisco. "The cable cars must not go." They rose up in defense of their beloved cable cars – the only ones left in the whole wide world.
By recounting actual events in San Francisco's effort to keep the city's cable cars running, this classic story illustrates how the voice of the people can be heard in the true spirit of democracy.
Virginia Lee Burton was familiar with the rhythm of the cable cars from her days as a young art student in San Francisco. Though Burton spent most of her life in New England where she wrote and illustrated an enduring canon of children's books, she never lost her affinity for the city of San Francisco and its efforts to preserve and protect its cable cars.

Remarks by Houghton Mifflin & Company, publisher.
Life Story: The Story of Life on Earth from Its Beginnings Up to Now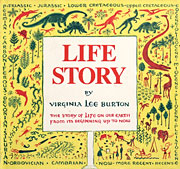 1962.
In this brilliantly executed book all the world is truly a stage and its history from the earliest beginnings to yesterday morning unfolds as an enthralling drama that readers of any age can pore over for hours…
Into this book have gone eight years of scrupulous research and a lifetime of artistic skill. Virginis Lee Burton's unique ability to put meaning into the elusve passage of time will give any reader a firmer grasp of the history of our planet and a better sense of his own part in it. Here is a book to grow up with and to treasure for always.
Remarks by Houghton Mifflin & Company, publisher.
Virginia Lee Burton also illustrated two other books:
Song of Robin Hood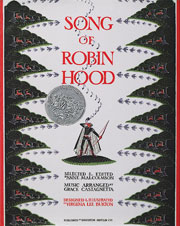 1947. Selected and Edited by Anne Malcomson. Music arranged by Grace Castagnetta.
Anne Malcomson, Grace Castagnetta, and Caldecott medalist Virginia Lee Burton joined forces in 1947 to produce the definitive edition of the Song of Robin Hood. Their triumphant achievement was one of the most distinctive editions of the legend ever published, and it received a Caldecot Honor Medal in 1948…
Virginia Lee Burton spent three years creating drawings to accompany the songs, ultimately producing a masterpiece filled with exquisite detail and worthy of comparison to the greatest illuminated manuscripts of the medieval era…
Song of Robin Hood still stands as one of the truly stunning books of its time.

Remarks by Houghton Mifflin & Company, publisher.
The Emperor's New Clothes
1949. By Hans Christian Andersen. Retold and illustrated by Virginia Lee Burton.
By the beloved creator of Mike Mulligan and His Steam Shovel, The Little House, and Katy and the Big Snow, here is a delightful version of the tale that boys and girls have loved for centuries. The Emperor himself, his court, and his clothes-or his lack of them-are as ridiculous as only the master storyteller Hans Christian Andersen can make them.
…Virginia Lee Burton added to this tale of fun her own irrepressible humor in pictures and design,…exhibiting her lively conception of remarkable spirit and beauty.
Remarks by Houghton Mifflin & Company, publisher.
Virginia Lee Burton's books are sold in twelve countries and printed in fourteen languages. They are available in libraries and bookstores throughout the United States.
There is also a biography of Virginia Lee Burton:
by Barbara Elleman, Houghton Mifflin, 2002.
Well-regarded children's literature expert Barbara Elleman introduces the exuberant life, art, and books of Virginia Lee Burton, complemented by family photographs, illustrations from her books, and other examples of her inspiring work.
Remarks by Houghton Mifflin & Company, publisher.
For further information about Virginia Lee Burton's picture books, go to www.houghtonmifflin.com